The 16th edition of the MEADFA Conference saw the leading lights of the duty-free industry come to discuss the main trends and challenges faced by the Middle East and African travel-retail industry. DFNI digital editor Liam Coleman brought you live coverage from the Jumeirah Creekside Hotel in Dubai.
Tuesday 30 January
2:45pm: As the MEADFA Conference comes to an end so does our live coverage of it. Thank you for following DFNI's live coverage of an event that provided fantastic insight from all channels and sectors of what is a fascinating and significant region in our global duty-free industry.
2:30pm: The MEADFA Conference concluded with the MEADFA Draw and closing remarks from MEADFA president Haitham Al Majali.
The draw saw Jenson James of Kreol Trading win the grand prize of $3,000 to spend in Dubai Duty Free. The runners up won $1,500 and $500 vouchers to spend.
In his closing speech, Al Majali said: "I would like to thank the people and organisations that have helped this event to be such a success. We are immensely grateful to our sponsors; we could not have put on the conference without you.
"Thanks to the TFWA for their organisation and I am pleased to say we have renewed our assoication with them to organise the conference for another two years.
"I found the speeches enjoyable and insightful; we have always tried to organise our conferences with a strong focus on how to improve our business in a sure-footed way.
"Our region is poised for major acceleration. ACI forecasts that growth in airport passenger numbers will rise to 9% in 2020 as we expand out transfer hub operations.
"Before I end my speech, I wish to thank every person that was involved for their hard work and involvement in making the event a great success that was so enjoyable and productive."
1:30pm: The final presentation of the Conference was delivered by broadcaster and African business expert Victor Kgomoeswana, who gave a general outlook of Africa and outlined which brands are admired and valued in Africa.
Kgomoeswana revealed his first-hand experience of how brands act as a status symbol for Africans. Speaking about growing up in a small South African village, he said: "When you went into my village, brands were so powerful that you would wait for Christmas to be given clothes and show off the brand you were wearing."
Only eight of the 50 most admired brands in Africa are African companies, which shows the importance of internationally-recognised brands in the African duty-free market, Kgomoeswana emphasised.
In reference to what African consumers want, he said: "Make your products more affordable but don't drop the quality."
Kgomoeswana concluded by saying businesses would need to make a conscious effort to uniquely appeal to the African consumer by avoiding indifference. "Africa is open for business, but definitely not for indifference or exploitation," he said.
12:30pm: The primary challenges and issues in the region were discussed and debated by MEADFA vice-president/ARI Middle East CEO Nuno Amaral, ETRC European Travel Retail Confederation (ETRC) president/Dufry external affairs director Sarah Branquinho and Dubai Duty Free senior vice president of finance Bernard Creed.
Referring to the DFWC meeting yesterday on the FCTC Illicit Trade Protocol, Branquinho told delegates: "We have had so many challenges over the years, but this is a really big one that could affect the viability of duty-free tobacco sales globally."
Branquinho added that multiple categories were suffering from additional legislation on labelling, with a significant deadline approaching for labelling of alcohol duty-free products on March 8. She revealed the ETRC had been working on an innovative digital solution on labelling, which the confederation will present to the European Union.
"Some people say an illness is terminal, some fight it and defeat it; we have some great examples in our industry of that. [On the Illicit Trade Protocol], we have got more than just positive thinking," she concluded.
Specifically in the Middle East some airlines are imposing hand luggage limitations, which is having a direct impact on duty-free sales and causing confusion amongst consumers, according to Branquinho. "Uncertainty is not what a customer wants," she added in reference to this.
Amaral added: "We are all suffering from this. We are doing some work with the airports to make them aware that they lose revenue from this, but it is like pushing water uphill."
A challenge raised by Creed was the new new excise taxes currently being introduced throughout the Gulf Cooperation Council (GCC) region; he said the whole concept of duty-free in the region was in danger of being "eroded" by the legislation.
11:50am: With delegates well refreshed from the snack break from Petit Gourmet and a prize draw from Bahrain Duty Free, the conference moved on to the airline side of the industry with a discussion featuring inflight expert Inati Ntshanga and Inflight Sales Group (ISG) Europe president Karen Durban-Villeval.
Speaking about ISG's work on airlines in the region, Durban-Billeval said: "Africa is for us a growing market full of opportunities. While we are not present in the Middle East, but we can see it is very interesting and challenging."
The need for brands to innovate for inflight and help inflight retailers through innovative, differentiated products is important, according to Durban-Billeval. "Our job is to convince brands that this industry still has a nice future. We need the support of the brands, for them to develop a differentiated offer and use their knowledge of the market," she said. On the differentiation that comes from airline logo products, she added: "Logo products are important, but it's only 4% of our sales."
Reflecting on the inflight retail market's health, Ntshanga said: "I am very positive because it is still a huge opportunity. I look at my country of South Africa and we sell duty-free, but don't sell inflight and that is 90million passengers that fly every year, which is in itself a huge number and opportunity."
10:30am: Analysis of passenger traffic trends in the Middle East and Africa was presented by ForwardKeys co-founder and CEO Olivier Jager.
"We have seen a growth of 10.5% of arrivals in the Middle East, primarily led by [arrivals from the] Asia/Pacific [region]," Jager explained.
The growth in Africa in 2017 took place in both traditional tourist destinations, like Morocco where passenger traffic growth was 17%, and rising destinations, such as Uganda where growth was 21%, according to the ForwardKeys data.
In the Middle East, all countries except for Qatar saw robust growth in passenger traffic, Jager revealed. That growth was most pronounced in Kuwait (22% growth) and Oman (21% growth).
Jager proceeded to extrapolate the data available to predict passenger trends for the first quarter of 2018. Growth in Middle Eastern visitors from the Asia/Pacific region is expected to be more moderate, due to a drop off in Chinese passengers, but a substantial boost in Indian passengers was predicted. Meanwhile, the region that will see the greatest growth in visitors to the Middle East in the first quarter of 2018 is the Americas, with growth primarily coming from Argentinan and Canadian visitors, according to the ForwardKeys data.
Answering a question specifically on passenger traffic in Iran, Jager said: "We saw Iran growing in the region of 20% in 2016, but we saw stalling in 2017. The worrying thing is those expected to travel to Iran in the next six months is down 16%."
9:30am: An exclusive report on the business outlook for the Middle East was presented by Emerging Markets Intelligence & Research (EMIR).
Speaking specifically about the UAE, EMIR senior analyst Samir Sweida-Metwally said: "Tourism is an important pat of the UAE economy; it accounts for 12% of GDP, 10% of employment and 7% of investment. The first key source market for this is India and two out of five are from GCC countries so it is important to look at where the spend is."
EMIR senior analyst Gary McFarlane added that the struggles of the Qatari economy was aiding Oman. "There is lots to be positive about in Oman. This is epitomised by the new airport in Muscat," he said.
Forecasting countries that he expects to do well in the coming years, McFarlane said: "I think Jordan is an interesting market to watch; we will see things opening up in Saudi [Arabia] where the opportunities are massive because of the sheer size of the Saudi economy; and I think the UAE will be strong."
Monday 29 January
11:00pm: The final evening of the Conference saw delegates turn out in force for the Gala Dinner hosted by Dubai Duty Free.
3:30pm: The Duty Free World Council (DFWC) organised a workshop on the dangers from the duty-free industry of the World Health Organisation (WHO)'s Illicit Trade Protocol for tobacco products.
ETRC general secretary Keith Spinks opened by emphasising that the WHO is using the protocol as an opportunity to try and achieve its objective of an outright ban of tobacco products in duty-free.
The protocol needs to be ratified by 40 countries by July 2018 and currently has 34, including Germany, France, Senegal and Saudi Arabia, according to Spinks, who added he felt there would be the necessary number of countries signed up to the protocol by the July deadline.
"We need to get the message across that we are not involved with illicit trade," Spinks said.
"We can stop it," he continued. "The DFWC is going to be coordinating a campaign with all the retailers and stakeholders across the world to stop this from happening."
In a passionate discussion that followed, Hume Brophy managing partner John Hume echoed Spinks' viewpoint that the protocol was being used as a method to ban duty-free tobacco sales. "The WHO objective is a global ban on duty-free tobacco sales. The study is a vehicle they will use for that. Just as we did in 2007, we will defeat this, but it will require a coordinated approach across the world," he said.
TFWA president Erik Juul-Mortensen warned: "We should make no illusions that if tobacco goes [from duty-free], alcohol will be next to go. The WHO is absolutely determined that alcohol is bad and duty free is bad."
Looking forward, ETRC president Sarah Branquinho said: "It seems to me there are two clear steps. The first step is to tell governments that this should not be investigated in the fist place. The second is to prove our point legally."
2:05pm: Finally, the two creators of Inflyter revealed how their start-up is looking to help duty-free retailers learn more about their consumers through their app that combines duty-free, airport services and flight tickets in a solitary app.
Inflyter has partnered with Beirut Duty Free for a first pilot of the app, which will launch in the coming weeks.
1:50pm: The session continued with Branquinho presenting Dufry's sustainable initiatives "This industry has a huge heart and many of you around this room have donated to initiatives around the world. We are also an industry that works very closely with the airport channel, which is in the spotlight for climate control. Today I want to share what Dufry is doing," she begun.
Dufry has been pushing the UN's Sustainable Development Goals initative over the last year and th retailer will be stepping this activity up in the next year, Branquinho said, with large striking banners at Dufry's airport stores across the world.
1:30pm: The main session of the conference's opening day concluded with European Travel Retail Confederation (ETRC) president/Dufry external affairs director Sarah Branquinho, Inflyter CEO Wassim Saade, Inflyter COO Amir Abbaszadeh and Philip Morris Middle East area vice-president Tarkan Demirbas discuss innovation and sustainability in duty-free.
Demirbas revealed the current aim of Philip Morris was in fact to convert all smokers to smoke-free products in the future and that the tobacco company had committed significant funding to this initiative.
When asked by TFWA managing director John Rimmer if the smoke-free products will create the same footfall that the traditional cigarettes always did, Demirbas said: "Each day 8,000 smokers quit smoking and switch to this new product so the commercial interest is already there and consequently the interest of retailers around the world [to offer smoke-free products]."
12:50pm: Aviation consultant Inati Ntshanga is an icon of the African aviation industry and is therefore well placed to offer insight on that subject.
"Historically Africa has had its challenges. That has made us a late starter [in aviation] and it may take a while to catch up, but we need to be more creative and innovative to get there," he said.
Ntshanga said a key way for the African aviation industry to grow, and with it the African travel-retail industry, was through increased participation in a single African aviation market. "When countries open their skies, we see growth in passenger numbers," he said.
Agreeing with an audience poll, which suggested a lack of investment in infrastructure was one of the main factors holding back the African travel-retail market, Ntshanga said: "Investment has been an issue as just putting bread on the table is an issue for African governments."
12:20pm: Counter Intelligence Retail (CiR) gave an exclusive presentation on the consumer of the Middle East travel-retail industry.
CiR research director Stephen Hillam said: "Passenger growth is being driven by several different factors. [These are] new routes, increased capacity on existing routes and new airlines coming into the region."
On nationality traveling through the Middle East, Hillam said: "When we look at the current Middle Eastern shopper, three in five are likely to spend at the airport, but when we look at the key nationalities for travel-retail, such as Russia, we see they are much more likely to spend at the airport.
"This gives us a two-tier opportunity. We have an opportunity with existing passengers in the region, but we also have some of travel-retail's most important nationalities that we can take advantage of, but we need to understand who they are and what they will buy."
This begs the question of what this nationality and demographic wants. Hillam said: "In the Middle East we see a trend towards differentiated familiarisation. We have a traveller that is driven by good-quality, well-known, brands. However, while they want this familiarity, they also want items that are new and differentiated from what they purchase at home. We can use exclusives from well-known brands to present this."
Hillam concluded with three points: "We need to optimise the product mix; when Chinese or South Korean travellers come into our region, we need products that suit their needs. We also need to focus on the purchase reasons; what support can we give to different purchase occasions? Finally, we just need to take advantage of the shopper in this region that is easily influenced."
11:30am: Following a coffee break sponsored by Nestle International Travel Retail and a pair of prize draws from Dubai Duty Free, it was time to get back to business with a talk from acclaimed UAE journalist Richard Dean, the presenter of Business Breakfast on Dubai Eye.
Offering an optimistic perspective on the UAE and the wider Middle East's financial situation, Dean said: "I would say on balance when it comes to the money side of things, the glass is half full, not half empty."
Speaking about Saudi Arabia's Vision 2030 plan for growth in the country, he added: "There are massive cultural shifts. The big advice would be to think about how these are going to impact you [the travel-retail industry]."
An audience poll suggested that the greatest threat to the Middle East duty-free industry is geo-political tension leading to travel restrictions. In reaction to this, Dean said: "Having been here for 20 years on and off, geopolitical tensions are greater now than at any other point. That is an ever present in this region, but you can't control it."
He added the industry should look at what it can control, such as the Emirates hand luggage restrictions, which he said the airports and retailers can negotiate with the airline better than it can impact geopolitical tensions in the region.
Touching on the earlier subject of the potential of Muscat International airport, Dean said: "Oman is fabulous. I was there on Thursday and I was looking longingly at the new terminal. The airport was really good value and it has potential as a hub airport. Oman has been beautiful for years, but they have never fully embraced tourists, but that is changing." He said the country had huge potential to join the UAE as a leading destination in the region.
10:15am: Oman Airport Management Company non-aeronautical senior manager Faisal Salim Al Mamari discussed the commercial plans for the new terminal under construction at Muscat International airport, which will have 32,000sq m of retail space.
Al Mamari added that the duty-free store in the new terminal will be 5,320sq m and will be operated by a joint venture between Aer Rianta International (ARI) and Oman Air, which will bring an "eye-catching" use of technology to the airport's duty-free.
As a result, he said the airport management company plans to double non-aeronautical revenue in the coming years.
9:30am: Following on from McLoughlin, Dubai Duty Free chief operating officer Ramesh Cidambi gave an update on the retailer's recent performance.
Cidambi opened by billing 2017 as "fantastic" for Dubai Duty Free.
This strong performance came despite a change in baggage policy from Emirates Airlines, which Cdambi said had proved challenging and had impacted the confectionery category.
On passenger demographic at Dubai International airport, Cidambi said: "In a general sense, the business is fairly broad. Where we saw change last year was the re-appearance of the Chinese customers." He added that the Chinese represent 4-5% of customers at the airport, but represent 12% of Dubai Duty Free's revenue.
One of the primary challenges presented to Dubai Duty Free is the digital revolution. Cidambi billed the likes of Amazon as "extremely powerful entities". He added: "The pure e-commerce retailers have fantastic information on their customers. In order for us to be able to conquer this, not only do we need to make the online offer better, but we need to start working on customer interaction and not treat the customer anonymously."
Cidambi concluded: "All the major world economies are doing well so from our own point of view, we think the improvements we are doing will bear fruit in terms of better business and better trading conditions over the next two to three years."
9:25am: Dubai Duty Free executive vice chairman Colm McLoughlin welcomed delegates on behalf of Dubai Airports president Sheikh Ahmed bin Saeed Al Maktoum.
9:15am: MEADFA president Haitham Al Majali gave the conference's Welcome Address.
Touching on the last-minute decision to rescheudle the conference, Al Majali said: "We are all sorry that the November Beirut Conference had to be cancelled due to the circumstances at the time and I can assure you it was a difficult decision for me and my board."
Giving a wider overview of the industry, he billed the Middle East duty-free industry's growth of 0.8% in the first half of 2017 as "modest" and said he was "hopeful of further progress" in the region.
On Africa, which saw a decline in duty-free of 3.5% in the first half of 2017, Al Majali said: "We know its potential is enormous and we want to realise that better at this conference."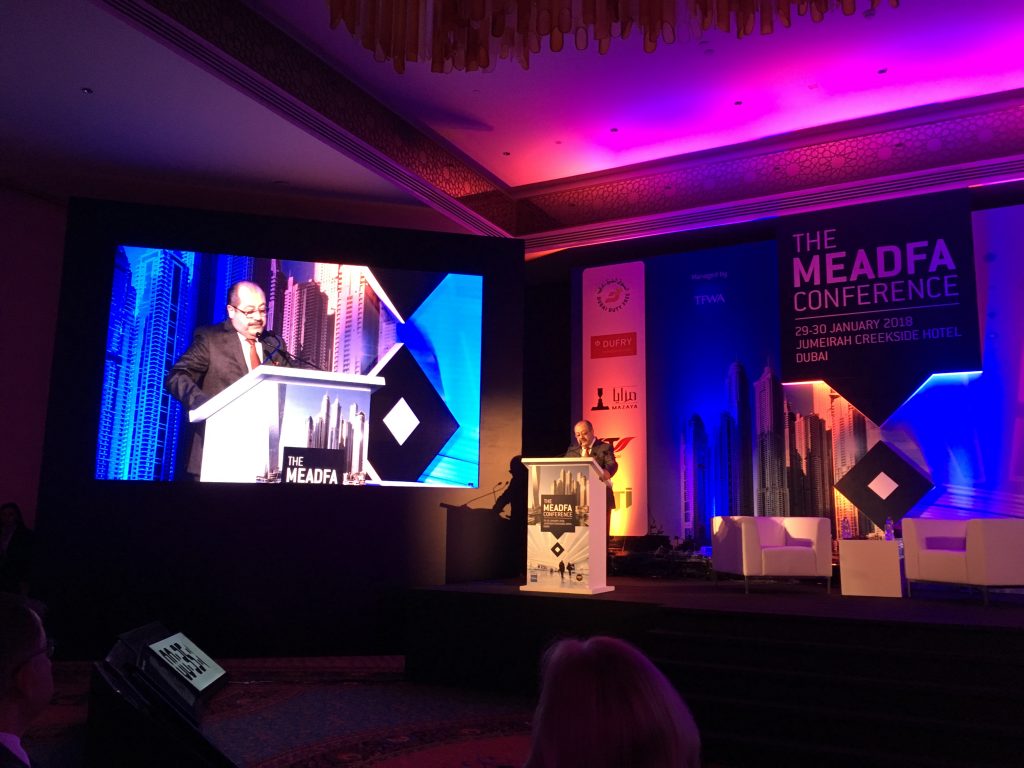 9:00am: The Conference was opened by moderators The Moodie Davitt Report president Dermot Davitt and Tax Free World Association (TFWA) managing director John Rimmer.
Davitt praised the "tremendous turnout" of 500-odd delegates, adding it was especially impressive considering the late rescheduling of the event.
Rimmer added: "It is a great pleasure to be in Dubai – a city that has always made us feel so welcome. Our hosts at Dubai Duty Free responded at speed to allow us to organise the event here."
Sunday 28 January
11:00pm: The Opening Cocktail, hosted by Dufry's Sharjah Duty Free venture, took place tonight ahead of the Conference beginning in earnest tomorrow. The likes of TFWA president Erik Juul-Mortensen, MEADFA president Haitham Al Majali, many figures from Dufry, other retailers and a variety of brands and stakeholders from across the industry turned out in force.