DFNI deputy editor Andrew Pentol has been on location around Asia to bring you all the latest from the opening of terminal four at Singapore Changi airport, the Trinity Conference in Bangkok and the latest developments from the Taiwanese duty-free industry.
Tuesday November 7
11:30pm: Tonight was another fantastic night. Not only did I have the pleasure of enjoying further wonderful hospitality at the wonderful Koiki Japanese restaurant in the company of Gary and other members of the Tasa Meng team I also had the privilege of meeting  Moët Hennesey Global Travel Retail key accounts director Greater China, Malaysia and Philippines Andrew LAU who was over from Hong Kong keeping an eye on things at Taiwan Taoyuan International airport where the brand has a strong presence.
After its first launch in London Heathrow airport in 2014, two years later, the House of Hennessy concept landed up in Taiwan. Having opened on April 1 2016 in Taoyuan airport terminal two, the 50sq m House of Hennessy, operated by Tasa  Meng, boasts a newly designed interior, which immerses visitors into a welcoming and intimate atmosphere. From the original X.O to the rare cognacs such as Hennessy Edition Particuliere, consumers are presented with an exceptional cognac range of Hennessy Maison.
By this time this evening's dinner, which comprised course after course of various different meats, fish and soups had finished, it felt like we had tasted the entire Moët Hennesey range. We began with a glass or two or three of the Moet Chandon Rose Imperial, before moving on to the Ruinart Champagne Rose, Veuve Clicquot – Extra Brut Extra Old and last but not least the Krug- Grand Cuvee.
Once everyone had finished eating and drinking it was back to the cigar lounge for some more premium cigars and whiskies. A perfect end to a perfect evening.
2:00pm: After a fantastic morning with Nancy and Tasa Meng business management division director Clare Chen, who did such an excellent job translating all questions and answers, it was time to meet Gary and one his colleagues and head to a nearby Japanese restaurant called Kanpai. The food was great and the only worry was that I would not have any room for dinner four hours late.
12:30pm: During my time with DFNI there have been certain occasions when I have felt inspired. Interviewing Tasa Meng Corporation chairman Nancy Ku  was certainly one of them. Having spent 17 years with the company her passion, commitment and dedication is there for all to see. But in addition, she is also the first female Taipei Department Store Association president.
In a wide-ranging interview in the VIP room of Tasa Meng's headquarters this morning (Stay close to DFNIonline and future editions of DFNI for the full interview), Ku emphasised the company was not solely about operating duty-free shops and generating strong sales, but offering a range of non-profit making services to passengers in the airport environment.
Ku also discussed the company's strong commitment to corporate social responsibility, ongoing charitable efforts, coming to terms with decreasing numbers of Chinese consumers and all things digital.
3:00am: What a long but great day surrounded by wonderful people. It all started 21 hours ago when the taxi arrived to take me to Bangkok Suvarnabhumi International airport for my flight to Taipei, Taiwan. Following a fun and rewarding time in Thailand, I was looking forward to spending a few days with Tasa Meng general manager Gary Chau and his wonderful colleagues.
On arrival at Bangkok Suvarnabhumi I was immediately struck by the strong sense of place in the landside public area. With more and more airports focusing on this in the airside retail areas, it was great to see them trying to create that lasting impression at the start of the airport passenger journey as well.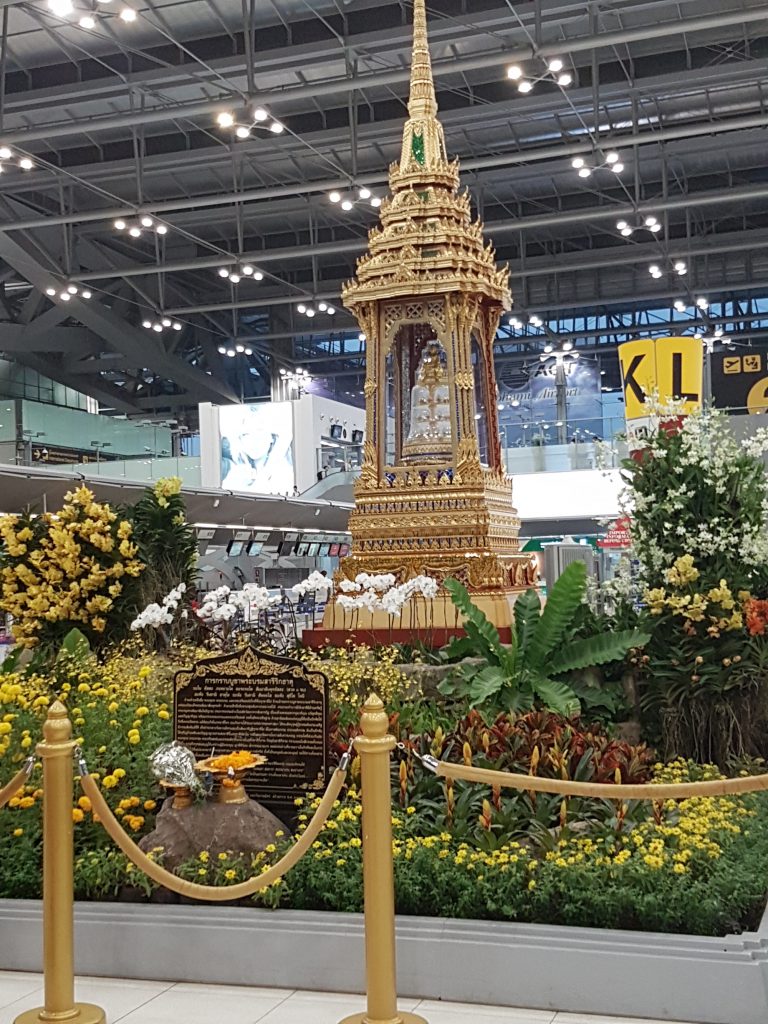 After a painless three hour flight, it was time to meet Rin, my driver in arrivals and begin the 45-minute drive downtown to check into the Sherwood hotel.
A few hours later it was time to meet Rin again and one of Chau's colleagues in the lobby and head to the nearby Brother Hotel for some traditional Taiwanese cuisine in The Orchid Room. The food didn't disappoint and the company was inspiring. It was a pleasure to dine with a group of people so proud of their company, staff and country.
Tasa Meng currently operates 42 duty-free and travel-retail outlets cross-category in terminal two (Zone D) and three stores (liquor, tobacco, fragrances and gifts) in the T2 arrivals area at Taiwan Taoyuan International airport. It also has successful operations at Kaohsiung International airport and on Matsu Island. But there is so much more to the company than simply operating duty-free stores. Its commitment to corporate social responsibility and extensive charitable efforts has won it many friends the world over and will continue doing so for years to come.
There is plenty to discuss regarding business in the coming days. Next year's T2 duty-free tender and the retailer's embracing of The New Southbound Policy initiative, introduced by the government to revitalise the Taiwanese economy and enhance relations with its surrounding countries, will surely top the agenda.
All that was left to do tonight though, or yesterday should I say, was smoke a premium cigar or two—it took me forever to get through one and I still didn't finish it completely—and drink some Johnnie Walker Blue Label whisky at the elegant P&L Club Cigar Emporium. A great night all round.
Friday November 3
2:00pm. That brings to an end this year's Trinity Forum in Bangkok. The changing world and need for digitalisation were key themes of the past few days. Discussions have taken place in earnest. It is now time to act, but to do so with caution. As Gategroup's Rossinyol said—It is no point embracing digital unless it is balanced with a strong sense of humanisation. Doing nothing, however, simply isn't an option.
1:45pm: Knussell said we had all accepted the consumer had changed.
He also indicated we should use technology to target non-shoppers. "We must use it as an enabler", he enthused.
When it comes to digital, Mondelez sees  its role to drive the phenomenal digital initiatives that entice consumers in-store.
1:35pm: Before addressing the future, Gill took a trip down memory lane and referred to some "watershed" industry moments and periods such as the BAA privatisation.
Gill, who reiterated the value of pop-ups,  then said we could not ignore the basics before pinpointing food and beverage as the rising star, which is outstripping retail.
He also said we must bring local uniqueness into the heart of our terminals and that food gifting, for example definitely did that.
Augmented reality and virtual reality has to be brought in, emphasised Gill.
1:10pm: The final session of the 2017 Trinity Forum comprised a panel featuring King Power International senior executive vice-president Susan Whelan, The Design Solution director Robbie Gill and Mondelez World Travel Retail head of category planning Ivo Knussel.
Kicking things off was Whelan who believes the changing world mentioned so many times over the past couple of days is happening faster in this region than anywhere else on the planet. "We need to be the catalyst for change in our own industry."
The future is about embracing change, said Whelan, "and interpreting the behaviour of our customers to influence strategy."
She added: "The challenge is how we can continue to innovate and present our offer in the most exciting way. Our renovated Rangnam store is our vision of how retail and food and beverage will look in the future."
As an industry, Whelan suggests we must think what we can do to make each each visit to stores special. She added: "If we want to recruit new customers, travel-retail must be seen as a destination in the digital landscape."
Whelan also championed the impact of pop-ups which are a great device to introduce and test new brands. "They provide great opportunities for variety and disrupt passengers."
She urged everyone to enhance the use of technology and not be victims of it to adopt attractive and efficient airport operations.
"New technology has a key role to play in our stores, but we must optimise our key weapon which is staff."
12:55 pm: Hunter Palmer Global Travel Retail Solutions co-founder Keith Hunter, a late replacement to the panel said: "We talk a good game, but each year we are discussing the same topics and then get side-tracked by another issue which comes up."
In terms of welcoming new and nice brands to travel-retail and duty-free environments, he added: "The airports must create certain types of areas allowing niche brands, for example, to come in that otherwise wouldn't get a platform in an environment with such a high footfall and diverse demographic."
12:35pm: Furla Global Travel Retail director Gerry Munday has signalled her intention to speak about fashion rather than Furla.
She immediately asked the question of whether we are dong enough to appeal to the 50+ passenger age group who normally head straight to the lounge.
In terms of young travellers, she asked if we should be tailoring our offers to them in airports or focusing on travellers from Asia and China, for example? "I don't think so", said Munday.
The global slowdown in luxury sales, whichever way to try to lay the blame, cannot be denied. "Furla has made diverse investments in retail and innovation," she remarked.
"In my opinion airport stores still have an advantage over the high-street and e-commerce with a different mind-set to the norm. Airports can provide products immediately and create a special experience with the touch, see and feel unavailable online.'
Munday concluded: "We are going in the right direction but lets get the product offer right. We can be as digital as we like but if the mix is wrong we won't win and won't be where we need to be."
12:20pm: Remy Cointreau Global Travel Retail senior vice-president Ian McLernon began the brand panel entitled Adapting the Product Offer to a new Reality.
"The best thing to be is a realist and look at what can be done about various scenarios and act now. The wines and spirits category, for example comprises $10.5bn of overall  business but is losing share so something needs to be done."
Travel-retail exclusives are also important, "but need to be differentiated for the right reasons."
McLernon, who revealed he never wants to see a digital plan, said it was important to invest in all touch-points of the client journey (pre, during and post travel).
11:55: Melbourne airport chief of Retail Andrew Gardiner spoke about how Melbournians are very proud of their city and how it wants them to be very proud of their airport and make the connection between the two.
The airpot processes around 100,000 customers daily and has 36 million customers, said Gardiner, who revealed all strategy revolves around the customer. "In order to address continued growth, the airport has put together a customer experience team to help enhance the customer journey."
He added: "I still think we don't talk loud enough about our strengths to all the people coming through the airport. These include the low prices we offer compared with the domestic market."
A project that ticks all the boxes in terms of elements such as change, disruption and leadership is terminal four. "Significant customer research preceded the choice and of brands and product assortment. The project has been extremely successful."
Gardiner said it was trying to create that whole look and feel and an exciting place for customers. "Each of the four terminals have a different demographic, so we need to do continual research to cater to the different passenger profiles in each location and remain on top of our game."
He concluded: "What we bring to our customers is really important to get that penetration. We design interesting spaces to appeal to them and meet their needs.
"Ongoing and growing customer numbers, utilising new technologies and creating beautiful and practical spaces to enhance customer experience are among our main objectives."
11:35: Dallas Forth Worth International airport vice-president Concessions Zenola Campbell outlined her vision  for Terminal D. Campbell suggested it was all about digital having undertaken research into the various passenger segments.
Once the design was finalised, "we have set about trying to offer an enhanced retail selection. It is all taking shape and we hope to unveil everything in the first week of December.
"We wanted to create an overall experience in a fun and interactive environment. We pushed our concessionaire partners to give us a design  focusing on what is going to be new and unique for passengers "
11:20: Following the EMCAT-sponsored coffee break, Fraport senior vice-president Sales and Customer Relations Winfried Hartmann kicked off the Airport Panel entitled Future Proofing the Commercial Offer.
"With passengers becoming more and more unique and multi-functional it begged the questions of whether we had to change our retail offering.
"Due to changing customer demand for low-cost flights Frankfurt airport is now fully open for the low-cost segment.
"In the past the low-cost business was not there. As a result, we are going to create a new pier attached to the new terminal three when it opens in 2020. This must have a new retail offering for the low-cost business. We must, however, not jeopardise what we currently have."
"The new pier gives us the opportunity to offer a selective offering for low-cost passengers, which can be done in conjunction with self-connecting passengers."
10:10am: This morning's keynote address was delivered by Gategroup CEO Xavier Rossinyol.
"Online retailing is flooding the industry," he said, "but we have one unique element which few others have which is 'face time.'"
We are in a changing world where customers and passengers are changing, emphasised Rossinyol.
There may be a clear changing world, but the changing customer is of paramount importance. He said: "Everyone is investing in better connectivity and better technology, but I am firm believer that digitalisation cannot be a success if it is not balanced out with humanisation. We will only be successful if we find the right balance."
Gategroup is trying to change the offering airlines are giving to passengers and travellers. "We cannot think about the passenger on the different steps of the journey. We are only part of the journey. We can't address it all. The name of the game is ecosystem and for complex problems you address them with your partners.
"If we look a little further beyond what we normally do there is potential to change the journey experience of the customer."
In terms of onboard retail, Rossinyol said: "We focus a lot more on food and beverage than retail because we do not believe we can offer the products consumers can find in a much larger airport shop."
Referring to on board duty-free specifically, Rossinyol remarked: "If we we sell Hermes on board, for example, I do not think it is sustainable business. I think on board retail will ultimately converge with Buy On Board which is the way forward."
Exceeding the expectations of passengers is the name of the game for Gategroup, according to Rossinyol. "We are trying to exceed expectations. Matching them is not enough. The one thing we want to do is have the digitisation connected with the humanisation. If we don't do both I don't believe it is a long time profitable sustainable model."
9:35: am: Without the people our business would be minuscule. "We must not forget the people," said Finavia vice-president Commercial Services Elena Stenholm.
She then emphasised the importance of engaging passengers and laid down the challenge to trinity parties in the audience.
The sharing economy is always rising, according to Stenholm. "The less people are using money on transportation and accommodation the more money they have to use during the passenger journey, which is a challenge in itself."
Focusing on social media as opposed to digitalisation a theme discussed at length throughout the conference, Stenholm remarked: "There is a clear global trend for social media and connectivity. The importance of smartphones and mobile internet continues to increase."
Helsinki airport uses many social media channels such as Facebook, Twitter and YouTube, but has also gone live with WeChat, "but it is not enough to have channels," emphasised Stenholm. "You have to have content."
It is also important to have a vision, said Stenholm. "We are very reliable and very smooth, but want to add the experience. We also need to serve our customers and ensure they engage with us and enjoy their time at Helsinki airport.
On the much debated and discussed subject of digital Stenholm said: "If digital is effortless, experiential and engaging it can boost revenues. It may take a little while and you have to find the right models, but it will be there."
9:25am: Greater Toronto Airports Authority vice-president Customer and Terminal Services Scott Collier indicated early on in his presentation that passengers are telling the company it is improving on all commercial related elements including sales per enplanement which has increased 4%.
Collier: "We will have 10 million passengers this year and not serve a thing to any of them which is a major concern."
It all comes down to four fundamental platforms, according to Collier — differentiation time, space and mind-set. "The one thing i know I can control is people. We have around 40,000-45,000 working at our airport and my job is to get everybody focused on that one special moment with passengers. The aim is to make their experience at the airport bigger than them."
He concluded: We are prepared to change and embrace innovation. Change is not going to stop. It is a relentless machine like time. That is the opportunity."
9:07am: The final day of the 2017 Trinity Forum started with a session entitled Changing Consumers, Changing times, Changing Needs. First up is China International Duty Free CEO Doug Bagley.
Bagley began by saying we need to accept the consumer journey has been redefined. He added: "A lot of people say it is so hard to relate to millennials in travel-retail because they are not interested in the layout of stores and only all things digital."
A limited choice of big global brands is not enough, emphasised Bagley. "These need to be complemented by local craft products."
There is also a penetration issue with only 49% visiting travel-retail, 30% entering the alcohol sector, for example and 12% buying alcohol.
In terms of sharing information Bagley said millennials are only too happy to share personal information while others might be hesitant.
To sum up, Bagley reiterated the fact penetration is concerning and that the topic is here, present and discussed actively. "The three trinity parties really need to do something about and the three of us working together must do something about it going forward."
Thursday November 2
3:55pm: Rather than speaking about beauty the area he specialises in, The Estee Lauder Companies global president Travel Retail and Retail Development Olivier Bottrie focused on corporate social responsibility and the travel-retail aid effort in Haiti.
Bottrie helped set-up the Hand in Hand for Haiti alongside The Moodie Davitt Report founder and publisher Martin Moodie and former DFS chairman and CEO Ed Brennan.
Incorporated in the US on January 29 2010, Hand in Hand for Haiti was a collective response to the humanitarian crisis in Haiti following the catastrophic earthquake that hit the country on January 12, 2010.
Bottrie said: " The level of destruction and suffering in Haiti was unbearable. I went to the hospital in Port a Prince and saw some things I wish I hadn't and The Moodie Davitt Report and Dufry Group offered long-term support."
He added: "As an industry, we realised we had the means and power to do something. The industry showed its capacity for humanity and solidarity."
3:25pm: In arguably one of key sessions of the day, AOE CEO Kian Gould, The Blueprint Partnership co-founder and partner Adil Raïhani, Changi Airport Group general manager Online Retail Airside Concessions Division Nicole Foo, Fraport vice-president e-commerce Jens Paul and Auckland airport general manager Retail and Commercial Richard Barker took to the stage in a session entitled Driving and Combating Disruption— positive and negative— in airport commerce.
First to speak was Gould, who revealed an interesting fact. "We have more mobile devices (4.8bn) than toothbrushes (4.2bn) worldwide."
Around 90% of people walk through airports on those phones. "The airports are not communicating and the retailers do not have an opportunity to communicate with them as they are not brands that are visible to the common public."
The $63bn global travel-retail market is starting to be disrupted, emphasised Gould. "According to a m1ndset study this year, only 2% of passengers purchase after receiving advice from airport staff. Ensuring full digital engagement prior to travel is expected to capture 70% of purchases.
"People do not seem to want to talk to people any more. The reality is they want to pass through the airport with zero human interaction."
Referring to Frankfurt airport, Gould said it has been experiencing a 35% rise in cross and up-selling.
He then raised the question of why an airport would do e-commerce. "We have immediate product availability, which is extremely substantial to a lot of people. They want it now and don't want to order on Amazon and wait a day to receive it. Other reasons are the low cost of returns and no traffic acquisition costs."
A great e-commerce product selection is crucial, emphasised Gould. "The special products which the retailers are too scared to put in their stores because they take away valuable real estate are the ones which do well online."
Service and convenience is another key element as far as e-commerce is concerned. "If you can't compete on price you have to leverage on service and convenience," Gould said.
3:55pm: After Gould's presentation a panel discussion took place focusing on all things digital and how airport companies such as Changi Airport Group and Fraport made the all important shift.
The first question raised what what cultural changes are required to embrace digital? Changi Airpot Group's Foo responded: "It is important to initially consider the actual value digital generates and how you measure its success which will be different to previously."
Auckland airport's Barker said people can see the opportunity there when it comes to digital making the migration easier, but warned. "It is not just about preserving our retail business but taking advantage of the opportunities in front of us.
"We have put in place a service where purchases can be made off-airport and picked up at the airport. This enables us to expand in categories we may not have at the airport."
He added: "In terms of partnering with airlines coming into New Zealand we want to use this method to partner with them and provide them with products passengers can purchase ahead of time."
Summing up, Barker remarked: "We are conscious anything we do does not compromise the work of our airport partners. Our primary aim is create a virtual-mall for our existing partners and anything beyond that is a bonus."
Foo, who revealed the airport has had its e-store for around years, concluded: "We have talked a lot about digital, but i don't think it will ever replace brick and mortar stores. It will all be about who can acquire intelligence and use that intelligence. Customers won't find you. We must bring ourselves to them."
2:55 pm: After a sumptuous lunch sponsored by Furla it was time to hear from leading fashion and luxury designer platform Mei.com; Glamour Sales co-founder and chairman Thibault Villet.
He immediately offered lessons that can be learnt from the Chinese. These included a seamless ecosystem linking airline with shop, a customer focussed approach and embracing the power of technology and data.
He said: "Chinese millennials are obsessed by novelty and authenticity and looking more and more for collaboration with new and emerging brands."
Cross-border, where Chinese people can buy abroad and have products delivered to China is a huge opportunity, Villet added.
1:10pm: The final session before lunch was from WHSmith CEO Stephen Clarke, whose company celebrates its 225th anniversary this year.
"We have grown our international estate to over 250 open or committed stores," Clark said. "We are now present in 45 airports across 30 countries in three continents. Working with strong local partners allows us to provide a compelling offer to landlords and customers from a standing start."
He added: "We don't give customers everything they want at any cost just because we feel generous. We must ensure sustainability and make judgements in several areas to create value for all stakeholders."
On the subject of digital and digital payment, Clarke said: "WHSmith is in full development mode for digital payment and we hope to have this up and running in the next nine months."
Clarke added his thoughts on partnerships between airports and retailers: The best way is to work together with airports on how we can create mutual value," he said.
12:40pm: Lagardère's Rasmussen continued to address the common theme of a changing world.
He focused on three areas: booming traffic, changing customer profiles and changing behaviours. "When it comes to the Chinese, shopping is not top of the list any more. A few years ago, 41% of their spend was on shopping. Now this is down to 33%."
He then discussed travellers needs referencing a pyramid comprising of several elements, including experience, personalization, localisation, value, convenience and efficiency.
A seamless customer experience could be created by all parts of the trinity working together, Rasmussen said. "It is about sharing data from airports to optimise staff and help accommodate the needs of consumers. We need to open up on purchasing opportunities by leveraging on omnichannel opportunities. We also need to share data and forget about who owns it."
He concluded: "We need to make changes as fast as consumers change, which needs fast collaborations. Should we go towards a profit sharing model or rent on gross margin model as opposed to a minimum annual guarantee one? We need to adjust in accordance with what the consumer really wants.
"We need to reinvent the future of travel-retail if we want to grow as fast as international traffic."
12:00pm: The first session after the Godiva-sponsored coffee break was the second thought leadership session comprising L'Oreal Travel Retail managing director Vincent Boinay and Lagardère Travel Retail chairman and CEO Dag Rasmussen.
Kicking things off was Boinay who said: "The beauty market worldwide is a market above $500bn. Beauty is key to your business and a bit more than one third of your travel-retail business worldwide."
The world, however and the travel-retail landscape is changing at the speed of light, according to Boinay, who added: "The retail landscape is changing and the consumer landscape as well because consumers can get everything at the click of a button. There is major disruption happening and a shift online."
Boinay added too many consumers were not shopping when travelling. "Leveraging penetration on beauty remains a strong business development opportunity. We can impact 65% of duty-free purchase decisions before consumers hit the store."
10:30am: The first thought leadership session comprised of a presentation from Alibaba Group global managing director K Guru Gowrappan. A panel discussion then ensued involving Gowrappan and Dufry Group CEO Julian Diaz.
Diaz said: "We need to change the way we engage with customers. At Dufry, we have focused on changing the value perception in order to deliver what they expect from us."
Regarding technology, Diaz said: "When it comes digital I see the threat and opportunity. The next step will be establishing contact with passengers when they are in airport corridors to drive people into shops. Technology itself will ultimately increase penetration and spend per ticket."
When it comes to airlines he added: "This is an excellent opportunity to connect with consumers online and on board with the reality of the shop. Today there is a total disconnection."
On a more general basis, Diaz said one of the most difficult things is to communicate with all the different demographics in store. "In the future, I like the possibility of using social media to communicate with travellers to tailor the experience as much as possible. This can involve communicating on promotions and products available in store, which cannot be purchased on the domestic market."
In the next five years Dufry's potential is to manage 50% of organic growth through the internet. "Today, the way of driving organic growth, driven by high-spending Chinese and Russian consumers, is related to internet and internet tools. We cannot, however, lead this change if airports, landlords and vendors and not aligned."

10:00 am: China Duty Free Group (CDFG) president Charles Chen discussed the changing dynamic of Chinese travel-retail and the Chinese traveller.
Chen said: "The rapid rise of China's middle class has let to the pursuit of lifestyle and the quality of life in the travel market and high-end consumption."
With more countries opening doors to Chinese tourists, more choice of destinations are emerging, Chen idntifying Monaco, Turkey, United Arab Emirates and Finland as among the top destinations.
At present, Chen said 58% of Chinese outbound tourists travel independently with 71% of individual tourists using apps to customise travel plans.
In addition to physical stores, Chinese tourists like online tools to accompany their travel experience. "Chinese tourists have increasingly more personalised demands. Customised travel has become the biggest dark house in outbound travel."
Moving on to CDFG itself, Chen who presented a detailed overview of the company before outlining the new directions of China's travel-retail industry said: "CDFG has the largest duty-free shop in the world in the Sanya International duty-free shopping complex. These type of big stores are favoured by Chinese people and fashionable and personalised brands are becoming more popular."
He added: "CDFG's sales channels have already covered online to offline and borders to airports. We will introduce more new technology experiences in the duty-free stores in the future."
Pressed to name some of the main highlights for the company to date in 2017, Chen pointed to the capture of the Beijing airport contract as one of the main highlights. "Beijing airport is extremely important to our company in terms of future development and strategy. We are not only talking about sales, but strategy revolving around downtown and e-commerce."
Following the capture of the key Hong Kong airport liquor and tobacco concession contract in partnership with Lagardère, Chen said: "Lagardère is a company I respect very much. Hong Kong airport is a key location for our company. We are preparing for the opening on November 18."
He concluded by delivering one key message: "Its a new era for Chinese travel. Don't miss China. If you miss China, you miss the future."
9:45 am: Fellow co-host King Power International Company and CEO Aiyawatt "Top" Srivaddhanaprabha was next to add his welcome.
He said: "It is a great honour to be co-host with Airports of Thailand for a second time. Travel-retail continues to offer something unique and authentic. To understand our traveller, it is important to know the journey is often more important than the destination.
"In the last decade we have serviced more than 300 million travellers across our 10 branches in Thailand. The airport creates the environment and the retailers set the stage year on year and day by day."
He added: "While global air travel continues to rise, time spent at the airport continues to fall. This further emphasises the need for intuitive retail experiences at the airport."
9:35 am: Next to take the stage and representing one of the co-hosts was Airports of Thailand senior executive vice-president Corporate Strategy Sasisubha Sukontasap. She revealed how the company processed more than 121 million passengers in 2016, equivalent to a growth of more than 10.8%.
Sukontasap emphasised how airport operators must continue developing their non-aviation revenue streams by becoming more knowledgeable and looking to enhance customer satisfaction.
She added: "Our strategy is to enhance income from commercial revenue streams. At present, 43% of total revenue is non-aeronautical revenue and the trend is on the up.
"We are looking to analyse big data to help find ways of fulfilling the needs of consumers, but this cannot happen without the good relationships between AoT and other parties in the terminal."
9:20 am: ACI World director general Angela Gittens was next on stage and immediately revealed some key passenger traffic statistics.
She indicated Asia, China and Japan were the major contributors of Asian passenger traffic growth, for example.
Disruptive technology, has limited growth in non-aeronautical revenues, according to Gittens, who also said the industry must understand and capitalise on the trends of millennial consumers.
9:00 am: Moodie Davitt Report founder and chairman Martin Moodie kicked off the 2017 Trinity Forum. Using King Power-owned Leicester City Football club as an example, he emphasised the importance of partnership and how the football team's triumph can give the industry some good lessons.
Setting the scene for the next couple of days, he recalled the buoyant mood at last month's TFWA World Exhibition citing certain elements, such as returning Russian consumers, and also highlighted how yesterday's THAAD-related news and pending resolution between China and South Korea was a turning point and excellent news for the Korean travel-retail industry.
Moodie then asked the question of how airport retail remains relevant in a changing world and revealed how focusing on sense of place and offering an experience embracing all five senses can set our industry apart from digital competition and the rest.
He also explained how travel-retail must stand for something, not just sell things, while embracing the digital age.
8:45am: Good morning from Bangkok on day one of the 2017 Trinity Forum. First of all a big thanks to King Power Thailand and Airports of Thailand for last night's opening cocktail at the Suan Pakkard Palace for a wonderful evening. The setting was great and it was wonderful to catch up with colleagues and friends in such a wonderful environment rich in Thai culture.
Wednesday November 1
9:00 am: After an extremely productive, yet tiring, day in Singapore yesterday touring the newly opened terminal four it is a pleasure to be here in Thailand for only the second Trinity Forum of my 10-year tenure at DFNI.
During my time with the publication I have written about many Trinity success stories in airports worldwide, but few more so than Budapest, which embraces the concept so often and so well.
In March, for example, it created its first internationally coordinated promotion in association with German duty-free operator Gebr Heinemann and US spirits supplier Beam Suntory and revealed it had a further 13 Trinity promotions planned during the remainder of the year. If only more airports would jump on the bandwagon.
The Trinity Forum, first held in 2003, aims to improve dialogue and understanding between airports, concessionaires and brands with a view to benefiting the travelling consumer. It may not be the complete answer and have the desired impact, but does throw up some crucial questions and takeaways and can prompt all parties to at least evaluate their lines of communication. No harm in that.
Tuesday October 31
11:00 pm: A warm welcome from The Pullman Hotel in Bangkok, Thailand; the home of the 2017 Trinity Forum. I am finally here after a fantastic tour of the new Singapore Changi airport terminal four, which opened this morning.
Thanks to Changi Airport Group vice-president T5 commercial planning Chandra Mahtani and her colleagues—yes, you have read correctly, planning has started ahead of the opening of the airport's fifth terminal in the late 2020s—for such an excellent tour.
After landing at around 8:25am having flown in from London via Dubai, I eventually made it to T4 after landing at T1, taking the Sky Train to T2 and a shuttle bus to T4.
Ably assisted by Changi Airport Group assistant manager Corporate Marketing and Communications Kai Fong, I was able to store my luggage in the designated area for the rest of the day ahead of the start of the tour. What a relief!
Following a brief look at some of the retail outlets in the public landside area (Kaboom, Watsons and one of Shilla Duty Free's perfumes and cosmetics shops, among others), it was time to clear security and hit the integrated duty-free zone in the transit area.
Here, Shilla Duty Free (perfumes and cosmetics) and DFS Group (liquor and tobacco) both operate alongside each other and passengers can pay for all their duty-free purchases in a single transaction. This can only benefit the whole customer experience so well done to Changi Airport Group for thinking out of the box with the customer in mind.
Well done to DFS, which has clearly observed latest market trends and tried to leverage on them with the launch of The Cocktail Bar and The Craft Collection. The former is all about making cocktails accessible and putting the key ingredient, the base spirit, at the heart of each creation. The latter, presents a curated selection of craft and small-batch beers and spirits from around the world. It is all about experiencing the stories and passion of a new generation of brewers and distillers who put innovation, authenticity, and local culture into everything they do
Operating in the three other terminals at the airport allowed Shilla Duty Free to refine its offerings, in response to customer behaviour and buying patterns. One of the insights gained was that travellers' demand for emerging Korean cosmetics brands was rather limited, as the lack of time and luggage space meant bigger Korean brands were often picked over the emerging, lesser-known brands.
Another key learning that shaped its strategy for T4 was that the makeup category has grown in its share of wallet among customers. Makeup items such as lipsticks and cushion foundations are very much in demand and this is a category it will continue to grow in assortment and sales.
To be honest, I could have spent another two hours perusing the integrated duty-free zone, but there were still several other shops to see including TW Tea Boutique, The Cocoa Trees – a haven for confectionery lovers – E-Gadget@T4 and WHSmith amidst a plethora of other shops.
Last but not least it was time to explore the Heritage Zone, designed to evoke nostalgia while consumers shop and dine. Traditional brands such as Bee Cheng Hiang, Bengawan Solo, Eu Yan Sang, Curry Times and Heavenly Wang only succeeded in further wetting my appetite to one day travel through this superbly constructed and impressive new facility.